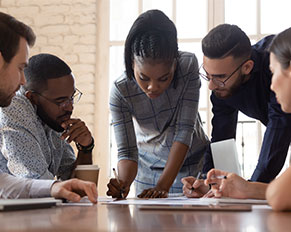 Mothers & Babies Research
Our team has conducted a variety of research studies examining intervention impact on health and implementation outcomes. Research-to-date has shown that MB is efficacious in preventing the onset of major depressive episodes, and in reducing depressive symptoms among pregnant and parenting people. MB was highlighted by the United States Preventive Task Force as effective in preventing postpartum depression. See the article detailing their recommendation here. Our research has also demonstrated that participants receiving the MB intervention understand the content and find the skills useful in their daily lives. Additionally, both mental health clinicians and individuals without formal mental health training (e.g., parent educators, home visitors, health educators) have generated successful client outcomes and delivered the intervention with good fidelity.
For providers and agencies interested in our ongoing evaluation efforts and appropriate assessment tools for MB, please click on the 'Research Tools' section.
For more information on our past effectiveness research, please click on the 'Effectiveness Research' section.
We also have a variety of ongoing research studies – you can find more details about each below.